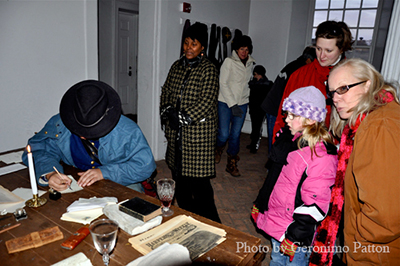 Welcome to allmichigancivilwar.com! This site is dedicated to helping you find out all you can about Michigan's rich experience in the Civil War AND the many ways you can commemorate it!
More than 90,000 Michigan men served in the war. This represented almost 25% of the State's male popluation in the 1860 census. Michigan raised 34 regiments of infantry, one sharpshooter regiment, eleven cavalry regiements, fourteen artillery batteries and one engineer regiment as well as sent smaller bodies of men to serve in units from other states. From this number, 14,434 men died in the service. As was true with the Civil War, most of the men lost weren't to the battlefield directly. 4,448 men were lost directly to combat while over 9,000 were from disease.
But military service was only the tip of the iceberg of Michigan's involvement in the war. For every man who marched off, a family of many stayed home to wait, worry, be proud and carry on. More who didn't serve in the ranks helped the war effort by keeping the Northern war machine moving by keeping enterprise moving forward, whether at their home farms or in cities working for larger businesses. Politicians still had to represent Michigan in Washington, Lansing and home counties and cities. Families wrote letters and kept farms and businesses functioning. The US Sanitary Commission and Christian Commission, as well as other organizations, provided directly for the soldier's relief and comfort.
Today we are in the midst of the Sesquicentennial of the American Civil War. As a resident of or a visitor to this great state, there are so many ways you can learn more about the great sacrifice given to us by our ancestors of 150 years ago. Our role is to provide you with one central site to learn about the many rich opportunites which Michigan provides you to learn about her Civil War history.
As rich as the history is, there are many ways you can experience it.
Visit our calendar for an up to date list of events across the state.
Did You Know?

151st Anniversary of the Grand Army of the Republic April 1 & 2, 2017
Michigan's Grand Army of the Republic Memorial Hall and Museum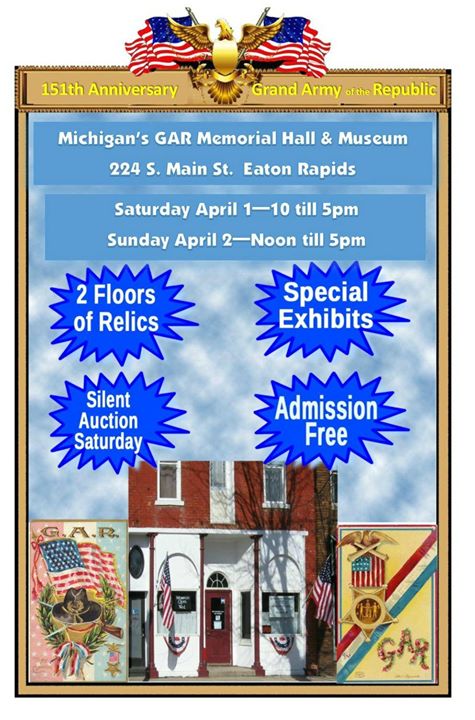 On the night of April 6, 1866, in Decatur, Illinois, 13 veterans of the Union Army of the Civil War, lead by Major Benjamin Stephenson, gathered in an upstairs room in a small, unassuming brick building. Little did they realize that the organization they were forming would have so much influence on the country they fought to save.
Michigan's Grand Army of the Republic Memorial Hall and Museum in Eaton Rapids, Michigan (224 South Main Street) will celebrate the 151st Anniversary of the founding of the Grand Army of the Republic with a special Open House on Saturday, April 1st, from 10:00 a.m. to 5:00 p.m., and Sunday, April 2nd, from Noon to 5:00 p.m. A silent auction will be held on Saturday and light refreshments will be served. Saturday evening will be highlighted with a 151st anniversary birthday cake in honor of the Grand Army.
The Museum invites anyone who like to bring items to exhibit from their own collections including GAR, Sons of Union Veterans and Auxiliary, Woman's Relief Corps, Ladies of the GAR, Daughters of Union Veterans, and Military Order of the Loyal Legion. Please let either Keith Harrison (GARmichigan@gmail.com) or Gary Gibson (Glgsuvcw@aol.com) know by no later than Thursday, March 30th if you will be bringing an exhibit for one or two days and how much table space you will need. The Museumwill have 4- and 6-foot tables available, BUT given the limited space, tables will need to be distributed on a first come, first serve basis. Also, if you have pertinent items that you would like to donate for the silent auction, please also let Keith or Gary know.