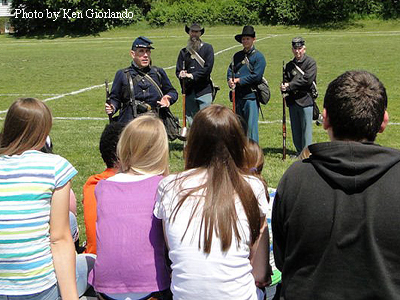 There are so many ways to learn more about Michigan's role in the Civil War, both on-line, in libraries, through speakers and at historic sites. If you are looking to learn more, or if you are an educator looking to augment your curriculum, this page will help guide you to many resources.
Live Presentations - So often teachers are looking for ways to really improve the experience their kids have in school. What better way to get a child's attention than to have a special presenter come in and bring a part of the Civil War to life? There are so many people in the state who provide this service, from individuals, to professional impressionists to re-enacting groups. Also, there are experts on specific topics who regularly give presentations to schools, fraternal and civic clubs. Price ranges vary with each presenter and a group's situation. Look to the Presentations page to find the option that best fits your needs.
Teacher Resources - Here you will find activities and other enrichments for teachers to use in their classroom without bringing an outside speaker in. Click to enter the Resource page.
Genealogy - Many people find great satisfaction learning more about where their family came from and what role they might have played in the Civil War. Sometimes it is done to locate where a family member is buried. Other time just to learn a little more about where a person came from. Find resources to help you track down an ancestor or other Civil War soldier on our Genealogy page.
Research Libraries - Michigan is full of good libraries and archives with special collections rooms. These are places to go to find original documents. Some are collections that have been built around specific topics. More often, the special collections rooms are the caretakers of items donated to the library or institution to which it is attached with significant value. Also listed here are historical societies with significant archive collections. Start to find places to look for research across the state in our Library and Archive page.
Great Websites - There are so many more people than us who are doing great work sharing parts of Michigan's Civil War history on line. Many of them don't fit neatly into one of our pages, yet they enrichen the story and and deserve recognition. Some of them are from our state government too. To find these, look in the Websites page.